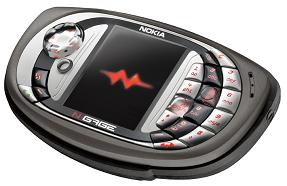 Ok, so I was wrong (my wife insists this has happened before), the only things I'd wished for that really arrived are the move to "classic" talking, the hotswap MMC, and size reduction. I was wrong on many other points, chiefly additional features and newer software. Nokia have really played the conservative card and in order to maintain maximum backwards compatibility have kept the core functionality almost identical to the original N-Gage, same OS version, same Java MIDP level, same screen colour depth etc. All About N-Gage has a run down on the specifications, an overview of what it's like to really use the device, and some lovely shiny pictures of the N-Gage QD.
Possibly my biggest mistake is the most significant although it may not seem it at first. I was calling the new device the N-Gage 2, implying it's a successor or replacement for the original N-Gage. The QD is nothing of the sort, like the 7610 Nokia have embraced the commodity market, and are starting to treat their phones almost like a car manufacturer creates and nurtures a range of car models and specifications.
With the two N-Gage phones you now get a choice, one being slightly bigger and better specified original N-Gage, and another that is the more cuddly and potentially cheaper QD. Like a car you get the chance to pick the one that meets your tastes and budget. The next logical model is the top of the range fully-loaded uber phone, for which I just can't wait!
As David Potter of Psion recently said:
"In a year's time, in any case, all phones will be, essentially, "smart" and it will be a marketing decision, not a technology issue, about how much of that smartness is visible to the user."
A year isn't far off, and the signs of commodisation are already loudly signalling the start of that process.

[